Profile of Gil Harper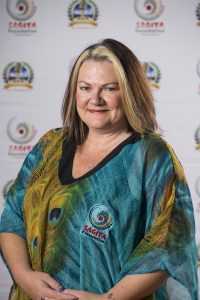 Durban born and bred Gil Harper has been the strategic manager of the Sagiya Foundation, a performing arts, theatre, musical and creative enterprise aligned to education and awareness-raising, since the beginning of the year.
Harper is one of the strategic minds behind the Dim-Dep Enviro Blitz, boasting the famous Dim-Dep Musical: Faces of Environmental Success, as well as other activities with casts and music legends mixing with audiences in townships and shopping centers. Sagiya is the driver for the Dim-Dep campaign.
The main sponsors are Invotech and Ethekwini Municipality, supported by the Bat Centre.
The Blitz will involve community activations in high-density areas in townships taxi ranks and shopping centers, followed by community outreach projects, where the community and city work together to clean, preserve, and maintain their areas, along with cast members. The Dim-Dep Faces of Environmental Success will debut in June.
Harper explained that the Dim-Dep Musical was one of the four arms of the Sagiya Foundation.
"It (Sagiya) is very Afro-Centric .This type of edutainment is unique in South Africa as, for example, when doing a theatre production, Sagiya will take to the streets and go to high-density areas for community activations, and do community projects as well to get individual and community involvement," Harper said.
Harper met Atlas Duma, the CEO of Sagiya Foundation that produces Dim-Dep Musical, through a mutual colleague.
"It was an immediate fit as I had just left a 10-year job in youth empowerment where I wore many hats, including programmes and marketing," Harper said.
She said Dim-Dep was about providing youth with skills and opportunities, as they perform alongside legends in the industry.
"So voila, that is how it happened!"
She said Sagiya encouraged individuals to take action to make positive change around them, and at the same time it was also about community development and ownership.
"We do this through creative projects that focus mainly on environmentalism and culture, while creating jobs through the projects themselves. Sagiya is aimed at youth in terms of empowerment and development – and the young at heart through recognising and promoting talent. The exciting part is when legends and youth come together in the different projects," Harper said.
Harper has travelled the world, but said and there was no place like home.
She has three sons; Aaron (21), Liam (19) and Daniel (15).
"I am so passionate about youth empowerment and have a special interest in youth justice – youth in conflict with the law, at risk, and those trying to turn their lives around after being in contact with the law," she said.
She has experience in various industries, always with a focus on marketing and communications and headed the Agenda Feminist Media project as managing editor.
"Working in the labour field, I pioneered dispute prevention initiatives at the CCMA (the Commission for Conciliation, Mediation and Arbitration (CCMA)," she said.
Harper is also a regular editor of books.
Harper said Sagiya had several objectives with with Dim-Dep.
"Mainly to ensure the Municipality and all stakeholders take ownership of environmental issues – to position also a specific leaders/organisations as the champions and model for innovative and effective partnerships with citizens in promoting environmental sustainability," Harper said.
The organisation aims to create individual change through "conscientising" individuals to understand how each individual can contribute to making change environmentally.
"This is about shift in mindset then behaviour change for different results; to develop community ownership so that the community leaders are driving change in each community for sustainable living," Harper said.
In the long term, she said, the aim was to take Dim-Dep around the country and continent, spreading the message of acting for change.